The INFINITI vehicle range defies convention and redefines luxury through empowering technologies and impressive design. INFINITI is unique and distinctive – not trying to be all things to all people, but everything to some people. At the heart of the INFINITI brand is the belief that the total ownership experience is much more important than just the car itself, coupled with a commitment to delivering a more empowering, more assured and more exhilarating driving and ownership experience.
INFINITI has come to be recognised as a brand that delivers expressive and striking car design.
A distinctive design crafted by human hand and delivered with a powerful and daring presence on the road. This, combined with an obsessive attention to detail and precision engineering, all contribute to the feeling that to drive an INFINITI is something special.

With INFINITI Centres in Brighton and Doncaster, Dealerships are conveniently located for Melbourne Football Club customers.
Click here to visit the INFINITI Australia website.

WHAT BENEFITS DO INFINITI PROVIDE MELBOURNE MEMBERS?
PRICE: As a Melbourne Member, you will have access to exclusive INFINITI pricing. * For a limited time, INFINITI is offering members, along with their family and friends, discounted rates on a select range of popular INFINITI models. Offer ends June 30th so enquire via the link below to ensure you don't miss out.
SUPPORTING OUR CLUB: Each INFINITI car sold also directly benefits the Melbourne Football Club.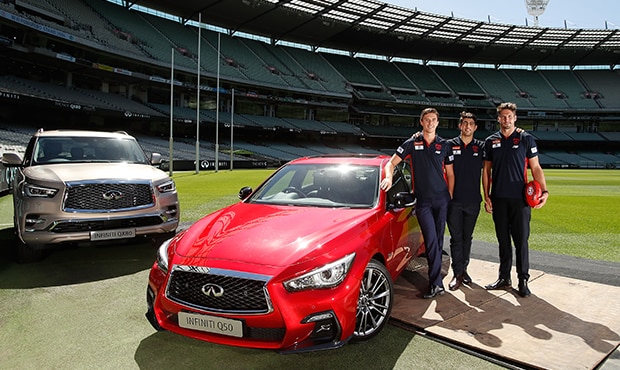 *Final prices are subject to negotiation, availability and timings.