Automotive Holdings Group (AHG) is the largest automotive retailing group in Australasia.
Established in 1952, AHG holds more than 180 car and truck franchises at more than 110 dealership locations in Victoria, Western Australia, New South Wales, Queensland and New Zealand.

AHG represents 12 of the 13 most popular passenger vehicle brands in Australia.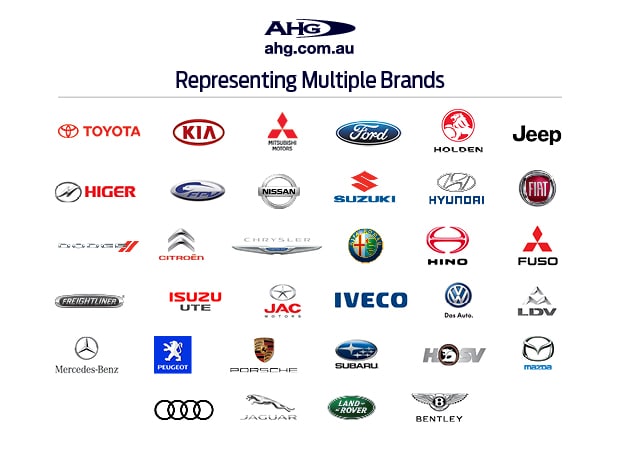 AHG has been the Principal Partner of Melbourne Football Club since 2014, and offers supporters and their families great deals on a huge range of the world's leading car brands.
The Group also operates national refrigerated transport and storage, auto and truck parts warehousing and distribution across Australia and New Zealand of KTM and Husqvarna motorcycles.
The Company is listed on the Australian Stock Exchange and is placed in the ASX 200.
In addition to its major sponsorship of the Melbourne Football Club, AHG and its various businesses support more than 300 community, charitable and sporting organisations.
At AHG, we sell, service and repair cars, trucks and buses and we also offer finance on home loans and a wide range of other products at extremely competitive rates.

AHG offers Melbourne Football Club members and their families great deals on a huge range of the world's leading car brands, with added discounts and exclusive benefits across sales, service, parts, accessories, finance and insurance.

AHG also offers access to some of the most competitive rates available on home loans and on finance for boats, trailers, jet skis and a wide range of machinery and equipment.

AHG's vehicle dealerships represent the most popular passenger car brands in Australia. Members and their families will receive preferential pricing on new, demonstrator or used car, bus and truck purchases.

$500 off your next vehicle purchase at any AHG dealership*
Simply download the below voucher, take it into your nearest AHG dealership and you will receive $500 off the purchase of your next new or used vehicle (*terms and conditions apply)

DOWNLOAD VOUCHER HERE

$100 off your next scheduled service*

Simply download the below voucher, $100 off your next scheduled service or repair on any make or model of passenger or commercial vehicle at all AHG dealerships in Victoria (*terms and conditions apply)

DOWNLOAD VOUCHER HERE
Exclusive MFC offer at Doncaster Jaguar Land Rover
Present this voucher on arrival at Doncaster Jaguar Land Rover to receive:
Complimentary 5 Year Servicing on all Jaguar models when you purchase a new or demo vehicle
Complimentary 5 Year Servicing on Land Rover Discovery Sport and Range Rover Evoque when you purchase a new or demo vehicle
DOWNLOAD VOUCHER HERE

- FURTHER INFORMATION AND CONTACT DETAILS
- FIND YOUR NEAREST AHG DEALERSHIP
- ENQUIRE ABOUT A HOME LOAN OR OTHER FINANCE FROM AHG*