The Melbourne Football Club is proud to make a commitment to fully support reconciliation, now and into the future.
We will continue to gather an understanding of, and embrace, reconciliation within our organisation and community, with the aim to truly value and embrace the histories and cultures of Aboriginal and Torres Strait Islander peoples within our club.
RELATIONSHIPS
There is a strong connection with Aboriginal and Torres Strait Islander peoples within the AFL and the wider AFL community. By nurturing these relationships, we believe we can have a positive influence on the outcomes of Aboriginal and Torres Strait Islander peoples as well as broader community views on issues such as reconciliation, awareness and respect. Through our presence in the Northern Territory, playing AFL games in Darwin and Alice Springs, we have developed several strong relationships with NT communities and NT government. The club has undertaken community work in trachoma awareness. Trachoma is an infectious eye disease that can lead to blindness. As it is easily treated with antibiotics, trachoma is regarded as a disease of poverty and is now unknown in developed countries—except Australia.
RESPECT
Through this RAP, we aim to create a welcoming, inclusive and nurturing environment that is socially, culturally and spiritually safe and accessible for Aboriginal and Torres Strait Islander peoples now and into the future. This can't be achieved without building respect for Aboriginal and Torres Strait peoples among internal and external stakeholders. We have created a Welcome to Country video that will be played before each home game, developed in consultation with the Wurundjeri elders, as well as displaying an Acknowledgement of Country plaque in our offices showing respect and acknowledging Aboriginal & Torres Strait Islander people.
OPPORTUNITIES
It is important for us as an organisation to reflect the diversity and opportunity of Melbourne as a city within our workforce. To experience and achieve the value this offers, to gain access to Indigenous employees from a wide background and skill set, to support our greater community. In line with our aim to reflect strength within diversity, we will recruit, endorse, mentor and train local Indigenous candidates for all roles within the Club.
Please click here to view our Reconciliation Action Plan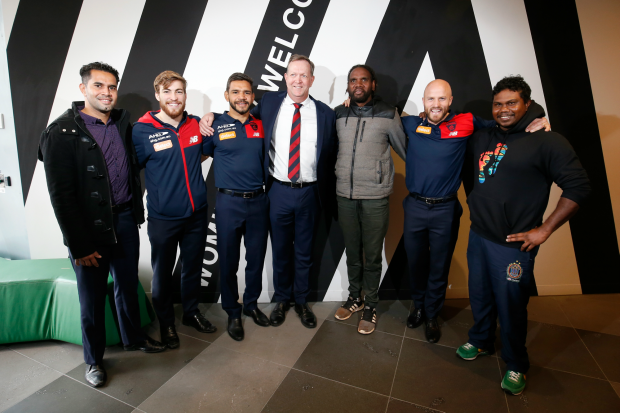 This squad is for anyone turning 15, 16 or 17 in 2017 that has either been born overseas or is of Indigenous heritage.
The Neville Jetta Squad gives multicultural boys aged between 15-17 years old that have never played Australian Football an entry point to the elite talent pathway. The program is also designed for Indigenous and Multicultural boys trying to get onto a TAC Cup list. This is a 10 week program designed to fast track the participant's football development, to develop their football skills to play Australian Football and provide great education at the same time. The education sessions consist of a Reach Foundation talk that deliver youth empowerment workshops, AFL player mentoring, Nutritional talks from AFL dietitians, Leadership sessions and many more.
The program will conclude with matches against other TAC Cup diversity squads. At the conclusion of the program participants may be offered a spot on the main list of the Dandenong Southern Stingrays Under 15's, Under 16's or Under 18's TAC Cup Squad. In 2016 the TAC Cup competition provided 55% of the young men that were drafted into AFL clubs. The Neville Jetta Squad is giving the participants in our Diversity squad a genuine pathway and opportunity to be drafted into the AFL.