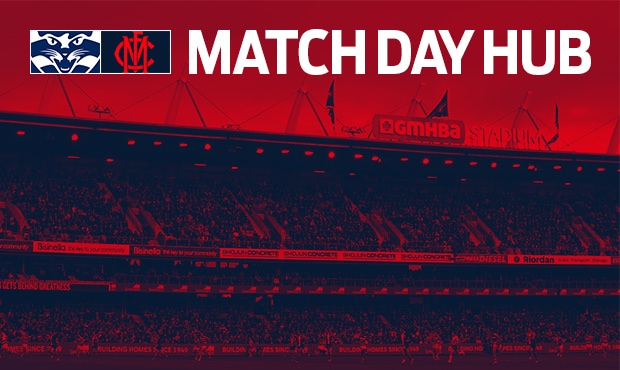 VFLW/VFL/AFL Triple Header

VFLW Round 11
Geelong Cats v Casey Demons
Saturday 21 July, 1.00pm AEST
Queen's Park in Highton, Geelong

VFL Round 16
Geelong Cats v Casey Demons
Saturday 21 July, 3.45pm AEST
GMHBA Stadium, Geelong

AFL Round 18
Geelong Cats v Melbourne
Saturday 21 July, 7.25pm AEST
GMHBA Stadium, Geelong




VFLW Round 11
Geelong Cats v Casey Demons
Saturday 21 July, 1.00pm AEST
Queen's Park in Highton, Geelong

The Casey Demons VFLW side will kick off a huge day of football for Melbourne when it takes on Geelong at Queen's Park on Saturday afternoon. The Demons will be looking for its fourth consecutive win following an 18 point victory over Richmond on the weekend.

Entry to the game is free.

Address: 150 Queen's Park Rd, Highton




VFL Round 16
Geelong Cats v Casey Demons
Saturday 21 July, 3.45pm AEST
GMHBA Stadium, Geelong

The Casey Demons will look to extend its winning streak to 10 straight games when it meets Geelong in a curtain raiser to Melbourne's match at GMHBA Stadium on Saturday.

Gate 1, 5, 13 & 14 will open at 3:15pm for the VFL match.

Click here for VFL admission prices.




AFL Round 18
Geelong Cats v Melbourne
Saturday 21 July, 7.25pm AEST
GMHBA Stadium, Geelong

All gates open at 5.25pm.

Memberships cannot be used to gain access to the game. All tickets for members and those that have been pre-purchased have been emailed with instructions on downloading and printing their tickets.

Alternatively, pre-purchase your tickets online through Ticketmaster.




Stock up on the latest Melbourne merch at The Demon Shop. Click HERE to shop the full range online.




Address: GMHBA Stadium, 370 Moorabool St, South Geelong VIC 3220

By Car: Geelong is 75 kilometres down the Princes Highway from Melbourne, via the Westgate Bridge. There is limited parking within Kardinia Park for patrons attending GMHBA Stadium matches are advised to arrive early. Limited street parking is available, but drivers are advised to read parking signs carefully as residential parking schemes apply.

By Train: V/Line runs matchday services between South Geelong and Southern Cross hourly. GMHBA Stadium is a short walk from South Geelong station. Contact V/Line for further details on train timetables to and from GMHBA Stadium or visit https://www.ptv.vic.gov.au/journey.

Parking: Public car parking is available at GMHBA Stadium and the surrounding Kardinia Park. On AFL match days car parking at GMHBA Stadium is limited. Please note, some car parks are closed in inclement weather.
Limited parking is also available in the surrounding streets – please note Council Restrictions are enforced.
A dedicated Bus Zone is located on Moorabool Street during non-AFL event days. The Bus Zone is signposted on the western side of Moorabool Street.
Accessible parking is available within Kardinia Park (non-AFL match days)
Moorabool St in front of Sports House
A3 car park out the front of the Premiership Stand
Park Cres in front of Kardinia Aquatic Centre
Vehicles must display a valid accessible parking permit to obtain access.
A drop-off zone is available near the A10 car park.

AFL Match Days: For the safety of patrons, there are temporary road closures on Moorabool Street for AFL match days.
Accessible parking is available:
Entrance E: via Moorabool Street (accessible parking only)
The drop off area is located at car park A2 via Kilgour Street.


Melbourne: Channel 7 – 7.00pm, Fox Footy – 7.20pm
Darwin: Southern Cross – 6.30pm, Fox Footy – 6.50pm
Brisbane: Fox Footy – 7.20pm
Sydney: 7mate – 7.00pm, Fox Footy – 7.20pm
Adelaide: Fox Footy – 6.50pm
Tasmania: Fox Footy – 7.20pm
Perth: 7mate – 5.00pm, Fox Footy – 5.20pm

Click HERE for the full TV and radio Broadcast Guide.




Keep up-to-date on game day with our live coverage of the game on Twitter (@melbournefc) with the official hashtag #AFLCatsDees

Get a behind-the-scenes insight into the day by following us on Instagram (@melbournefc), liking us on Facebook (facebook.com/melbournefc) and adding us as a 'friend' on Snapchat (melbourne_fc).

At the game? Tag us in your footy photos using the hashtag #RaiseHell